Loren Mellinger
Senior Spotlight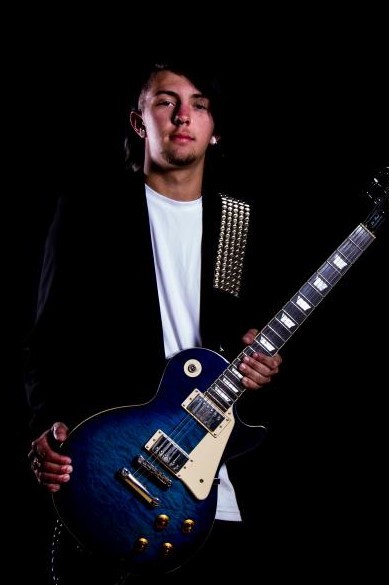 Senior at Cheylin, Loren Mellinger, has had a love for music for as long as he can remember. In fact, when asked what people will remember him for his response was "An honest, honorable man, that is one heck of a guitar player." Loren started messing around with guitars at around 10 years old but it wasn't until his family moved to Bird City when he was in 6th grade that he really got into playing. He said there was not much to do in this small town so he spent quite a bit of time learning to play the guitar. "I was glad we moved to Bird City. I like the small town feeling and things are a lot more simple here."
Loren plans to work after high school in order to save up some money so that he can pursue his dreams of becoming a musician. He has goals to someday end up in Los Angeles, California. Loren mentioned that he would probably move somewhere like Denver first and then work his way to the west coast. "I have around 12 guitars, a drumset, keyboard, and I also sing." Loren has started a band with Connor Hazuka, who plays the drums. Every musician has to start small and Loren has done just that. He has performed several small gigs at Big Ed's Steakhouse and other various places. Loren and Connor used to play together all the time but it has been harder to find time to practice more recently.
"The hardest task as a senior has been time management. I have added more work hours at Big Eds and helping my dad, so it's been hard to try to add creating a band in with everything else I've got going on."
Loren will be the first to tell you that school is not his thing. He would rather be playing his guitar, playing pool, or working. Loren does mention that there are some important skills you can learn in high school that will help you later in life. Some of the skills Loren mentioned include: cooperating with people you may not like and doing things you may not want to do.
During Loren's time at Cheylin High School, Loren states that Mr. Keltz has been his favorite teacher. "There's never a dull moment with Mr. Keltz. He genuinely cares about his students and enjoys his job."
Loren describes senioritis with the words "I am ready to get out of Dodge."
Loren is the son of James and Andrea Mellinger. Loren has three sisters, two older and one younger sister, Sarah, who is a sophomore at Cheylin.